Breslau Community Gardens
An initiative of Breslau Mennonite Church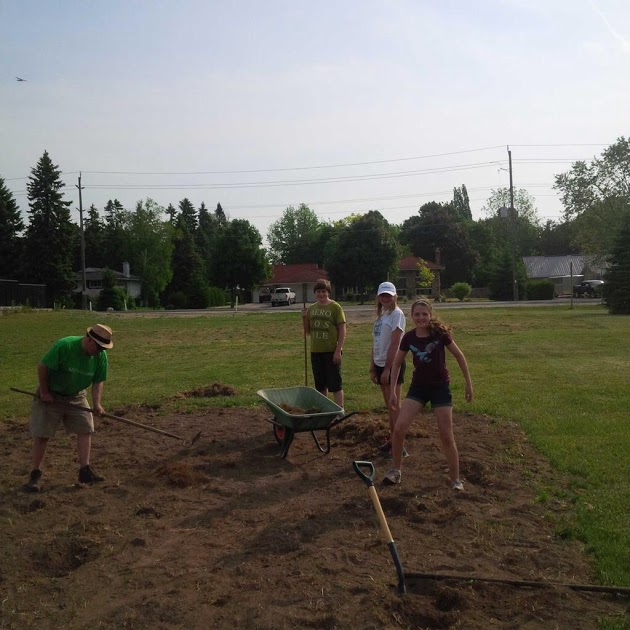 In the fall of 2014, a group emerged from Breslau Mennonite Church expressing interest in exploring the possibility of a Community Garden. We began meeting monthly ~ exploring, talking and researching about how to make this dream into a reality. After doing some research, we decided to commence with a 'test' garden to see how the growing conditions were and to see if a community garden could in fact be something to strive for in the future.
With our plan in place, on May 29, 2015 we started planting, with varieties including (but not limited to): Peas, Beans, Tomatoes, Carrots, Onions and Beets. Our garden is a success! With success comes great work, however! On multiple occasions, various congregants met up and spent hours weeding, planting and nourishing the garden. We enjoyed working together. It was a great opportunity to learn about each other, as well as connecting with many people from the Breslau community as they learned and showed further interest in our project.
A new growing season begins together with people in the church and neighbouring community. We are looking forward to what the future of Breslau Gardens will hold! 
The community garden is back in bloom for the 2023 season!  The garden has a new location behind the Breslau Mennonite Church Cemetery and to the south of Joseph's Place, the new apartment building.  With Covid-19, we are following Region of Waterloo public health guidelines to safely garden this year.  So, the community garden is only open to the gardeners and not the public.
If you are interested in a community garden plot, please email Mark Epp, Coordinator/Host at; jean.mark@rogers.com or by contacting the church office at: office@breslaumc.ca.