Adult Education
ADULT CHRISTIAN EDUCATION  
Breslau Mennonite Church adult Christian education (or ACE) is committed to stimulating conversations about issues that matter to congregants and to the community locally and globally. We recognize that the whole of life is territory to explore for those with an interest in how to live a more spiritually aware life.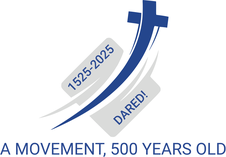 In January 2020, ACE introduced the work of some European Mennonites who have initiated a project entitled "Daring! The Anabaptist Movement, 1525–2025". A different theme for each of the next 5 years will lead us to the 500th anniversary of the Anabaptist movement. The theme for 2020 is "Daring to live maturely: Baptism,  Freedom of Religion, Freedom of the Will". The theme for 2021 is "Daring to live together: Equality—Responsibility—Autonomy. More information about the project can be found at: http://www.taeuferbewegung2025.de/en/intro
January 2022 Wellness & Mental Health Series – Resources from Wendy Janzen, Mennonite Church Eastern Canada Eco-Minister.
An Altar in the World: A Geography of Faith by Barbara Brown Taylor
Reading the book of creation
The Kin-dom of God is Like
Sensio Divina
Suggested book list from Dave Gingerich-
Care of the Soul by Thomas Moore
God's Undertaker: has science buried God by John Lennox
Man's Search for Meaning by Viktor Franki
Living your Unlived Life by Robert Johnson
The Gift of Therapy by Irvin Yalom
The Question of God by Armand Nicholi
When All You've Ever Wanted Isn't Enough by Harold Kushner
Why Psychology Needs Theology by Alvin Dueck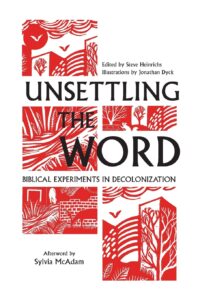 Book Study – Unsettling the Word: Biblical Experiments in Decolonization –

editor Steve Heinrichs.
Mennonite Church Eastern Canada Truth and Reconciliation Working Group – Story-Telling Series 2020-21 Treaty As Sacred Covenant: Stories of Indigenous-Mennonite Relations
Truth and Reconciliation Commission of Canada Summary Statement – Honouring the Truth, Reconciling for the Future
Christian Peacemaker Teams – #1492 LAND BACK LANE & THE ONGOING SIX NATIONS STRUGGLE FOR LAND   Resources for Learning & Un-Learning
Anabaptist Witness issue November 2020 issue 2 volume 7 Displacement: Indigenous Peoples, Land, and Mission
http://www.anabaptistwitness.org
Anabaptist Witness issue November 2020 issue 2 volume 7 "Unsettling the Radical Witness of Peace: A Decolonizing Investigation of Mennonite Migration from Russia to Manitoba in the 1870s" by Hyejung Jessie Yum http://www.anabaptistwitness.org/journal_entry/unsettling-the-radical-witness-of-peace