Peace Buttons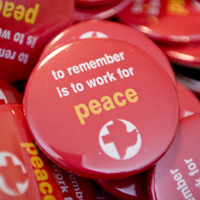 This Mennonite Central Committee (MCC) peace button dates back to 1989, when a Mennonite pastor in Ontario suggested that MCC share a message of peace during the Remembrance Day period. MCC Ontario embraced the idea and the simple message "to remember is to work for peace" was born.
The buttons are only a part of remembering, thousands are distributed every year in both of Canada's official languages.
We invite you to wear the peace button and to remember all people who are affected by war.
 Learn more about the Mennonite Central Committee Peace Buttons