Historical Tidbit – Transition Day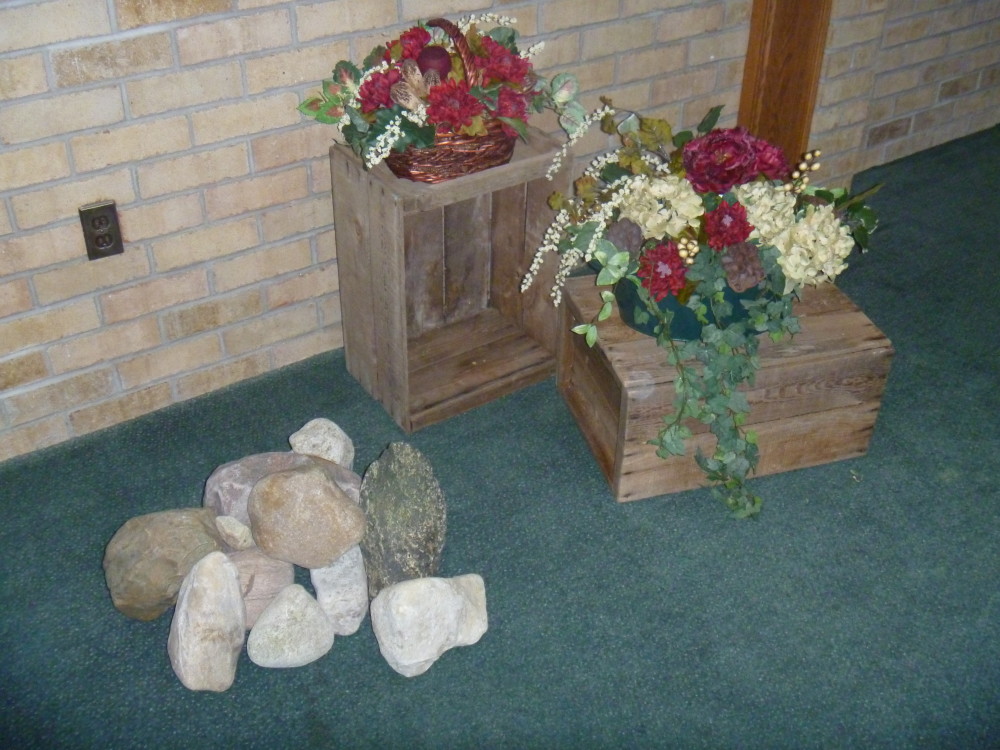 January 10, 2016
25 years ago, the second Sunday in January was January 13, 1991 – Breslau Mennonite Church moved from the old church building to our present church building.
The pastors at this time were Erwin Wiens and Jan Steckley.
It was a pleasant sunny winter day when the new church addition opened. You will notice a pile of stones in the foyer this morning.  On that day twenty five years ago everyone received a stone to carry from the old church sanctuary.  They walked along the front sidewalk to the new church entrance and made a stone pile in the front foyer.  The stones were a symbol of the congregational members being living stones.  The theme song "Living Stones" was part of the transition ceremony.
On Transition Day, there was a closure service in the old sanctuary and then an opening service in the new sanctuary.   A Service of Dedication and Praise, was held the next month on February 3, followed by a time capsule event.
There are 3 items from our past placed here on the front table this morning: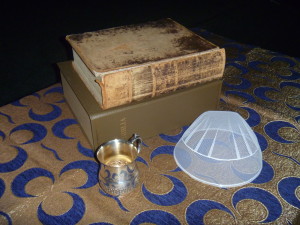 The German Bible
On January 13, 1991 this old German Bible was carried from the old church sanctuary to the new one.  This Bible was likely a valuable possession brought with the early settlers from Pennsylvania to this area.
The inscription inside the front cover of this old Bible has been translated and reads:
"This Bible is dedicated for praising God and for the use in the Kressman's meeting house".
In 2009, for our 175th anniversary, BMC preserved this old Bible in a clam shell box for future generations.  It is a historical treasure and guide of our church.
Head covering
Women wore a head covering, known also as a devotional covering, prayer veil, and prayer cap.  It came to be officially established and described as a church ordinance during the late 19th Century; this became the primary symbol of a woman's membership in the Mennonite Church.
Head coverings worn by women during services were replaced with fashionable hats, and the coverings slowly disappeared in the 1960s.
Now the covering is a symbol of the past.
Communion Cup
Originally only the Bishops performed the function of administering the Lord's supper, assisted by the minister and deacon. During communion members drank from a common cup then passed it from member to member.  The use of individual cups came by the mid 1970s and the usual reason was sanitation.
Here is a quote from Pope John Paul II:
"Let us remember the past with gratitude,
Live the present with enthusiasm, and
Look forward to the future with confidence".
Let Us Recognize and Remember our heritage.
Maryanne Szuck